The Grand Canyon is 270 miles long, up to 18 miles wide and a mile deep that is formed from erosion over a span of 6 million years. The history of the Grand Canyon can span back to prehistoric times, people occupied this canyon even during some of the last ice age's. Many Native American people have come, passed through the Grand Canyon, made it their home and then either moved on or claimed it as home for good. The Havauspi people still call this amazing place their home and have called it home, according to their tribal history, for over 800 years.
In the 1540's Spanish explorers were the first European's to discover and explore it, there is very little recorded about it during this time as the Spanish explorers were scared to traverse the canyon with it being so immense. It wasn't until the 1800's that brave explorers like John Wesley Powell and Joseph Christmas Ives traversed the canyon and brought back the first records of what secrets the depths of the canyon held.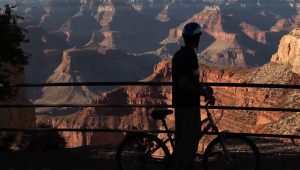 In the 1880's miners began to settle along the rims of the canyon in search of minerals and special metals like copper. The Grand Canyon wasn't a protected forest reserve until President Harrison made it so in 1893 and it grew to be a tourist site in the early 1900's, it grew more popular with President Teddy Roosevelt and finally reached National Park status in 1919. At this point the Canyon had been a home to tribal people's, a miners treasure cove, a hunters dream and finally in the 1920's a national treasure for all to come and see.
In 1919 there were about 44,000 visitors but as more attractions have been added and the word of the immense beauty of this wonder has grown the Grand Canyon now receives about 5-6 million visitors. A skywalk had been added to give people a chance at seeing the Grand canyon in a new and more intense way. A zip line very recently was added for visitors to see the grand canyon as if you were a soaring California Condor. The Grand Canyon may be 6 million years old but it continues to be a site for anyone of any age to enjoy and stand in awe of.