If you're an outdoor enthusiast, a hopeless romantic, or simply want a memorable and unique location to tie the knot… Grand Canyon is a fantastic setting. You must however be ready for a few hurdles. Very limited vendors for everything from feeding your guests to officiating your ceremony; being at the mercy of vast fluctuations in weather; adhering to strict permits and guidelines that govern when and where you can get married… including a rule that states that "no tables or chairs can be used for your ceremony". Here's the scoop:
How to Get a Permit:
All weddings, regardless of size, require an approved wedding permit issued by the National Park Service. Weddings may be scheduled up to one year in advance. We do not allow chairs or tables at any locations. Please review the Wedding Information Brochure for a list of ceremony sites in Grand Canyon National Park and indicate the specific location on the application. You may also check the online Ceremony Sites Calendar to see which sites have already been booked on a specific day. Wedding Information Brochure (172 kb PDF File) 12/2013 Application form — Fees
Choose a Location:
South Rim Pima Point: A somewhat secluded site at the western end of Hermit Road for smaller parties. Only available December, January, and February, when Hermit Road stays open to all vehicles.
Rim Worship Site: Located at the western end of Grand Canyon Village along the Rim Trail, one-fourth of a mile (0.4 km) from the nearest parking lot. Accommodates 50 people.
Grandeur Point: A short walk west from Yavapai Point. Parking fills quickly; consider using the free shuttle buses. Accommodates 45 people.
Shoshone Point: Isolated site, limited parking; only accessible by a one-mile (1.6 km) unimproved dirt road. Available May 1 to October 15. Site offers picnic tables, pavilion, grills, trash cans, and toilet. Holds up to 85 people. Only viewpoint available for outdoor receptions.
Moran Point: Just west of the main viewpoint in an un railed area. Receives less visitors than other viewpoints and offers expansive canyon views. Parking usually available nearby. Accommodates up to 35 people.
Lipan Point: Just west of Desert View: offers views of the Colorado River. Accommodates up to 35 people. Tour buses may pull into adjacent parking area. (this is the location in this post's blog)
North Rim Cape Royal Amphitheater: Located 23 miles (37 km) from the North Rim developed area. A sign points beyond the picnic area to a site with low log benches. Accommodates up to 40 people.
Point Imperial Viewpoint: Highest viewpoint along the rim at 8,800 feet (2,682 m); located 11 miles (17.7 km) from North Rim developed area. Viewpoint accommodates up to 10 people, but nearby picnic area holds up to 20 people.
Reception Locations: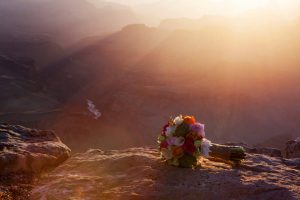 There is a limited number of places where you can have a reception at the Grand Canyon. The only point which allows an outdoor reception is Shoshone point between May and October. For indoor receptions, many people get married at Grand Canyon and plan their reception in nearby towns like Flagstaff, Williams, and Sedona. If you want to hold a reception at Grand Canyon, you can consider the Banquet facilities at the South Rim which include the Thunderbird & Kiva Rooms at the Thunderbird Lodge.
Vendors: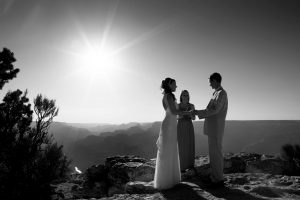 Photographer: http://www.heatherkadar.com/
Photographer: http://www.essemphotos.com/
Photographer: http://www.cameronkellystudio.com/
Catering: http://www.simplydeliciousflagstaff.com/
Catering: http://www.fatolivesflagstaff.com/
Catering: https://www.facebook.com/SatchmosBBQ/
Catering: http://salsabravaflagstaff.com/
Catering & Lodging: http://www.grandcanyongrandhotel.com/