The first time I saw Grand Canyon was when I was 21 on a visit from Canada. I walked to the edge with a thousand tourists. Gasped at what I saw. Let it soak for 30 minutes along the half mile edge that surrounded Mather Point and then left to continue my journey. After that I had a sore sense of disappointment about the abruptness of the occasion. Such a massive place, and so many ways to see it. Yet poor planning, lack of time and resources… and I had missed the heart of the adventure. I saw a tiny slice of the world's biggest pie.  Fortunately I would end up dating my husband who is a Flagstaff native on that trip and the 13 years since, we have done dozens, maybe hundreds of things in and around the area and I know it intimately. In an effort to help you cut through the internet's clutter, here are my recommendations for the 5 best things to do at Grand Canyon. I have done all of the activities listed below except for the flying, so my info on that portion is purely anecdotal based on other people's experiences.   This article is intended to highlight the BEST ways to see Grand Canyon intimately. Make your stay worth it, and see this STUNNING location the way it was meant to be seen.
BIKE GRAND CANYON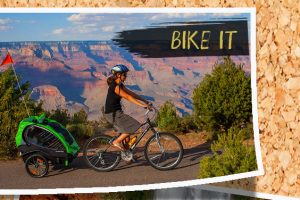 Description: The Grand Canyon has miles of greenway biking trails and quiet rim side roads that offer stunning views without massive crowds. Riding a bike at Grand Canyon is widely viewed as an exhilarating, fun and adventurous way for people of all ages and fitness levels to see lots of the canyon quickly. It's also fantastic for families. Many well traveled visitors recommend this on TripAdvisor.com as the best way to see the canyon in a day. Use the bike shuttle to skip the large physically demanding hills or take a bike tour.
Price: $30 for half day rental, $48-$60 per person for the tour (Adult prices shown)
Necessary Equipment: Rental Bike and helmet which is included in price
Recommended Vendor: Bright Angel Bicycles and Cafe at Mather point is the only company offering Grand Canyon bike tours and rentals inside the park.
Pros: See a lot of the rim in a short amount of time. Escape the crowds. Get a workout but don't have to be as physically in shape as hiking. Easily take kids on their own bikes or in a bike trailer and they absolutely love it. Also it's great for the environment!
Cons: You do have to physically exert yourself which can exclude certain people due to health conditions. We still consider the ride mild-moderate in intensity but the exercise should be duly noted.
HIKE GRAND CANYON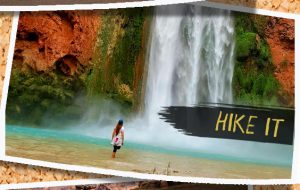 Description: It's hard to comprehend the enormity of what you're standing next to at the canyon unless you dip below the rim. That's why if you're physically fit we always recommend that you do some hiking into the canyon, even if it's only a mile below the surface. If you're not comfortable attempting this on your own you can try a guided hike or if you don't feel physically capable of using your own two feet to traverse these trails try a mule ride. There are multiple day hikes or overnight hikes which require permits. Part of Grand Canyon also lies on reservation land including Havasupai which is pictured. That is a separate permitting process that is covered in this article.
Price: $120-$250 per person guided, $125.27 per person mule ride
Necessary Equipment: Hiking shoes, daypack, water bottle
Recommended Vendor: All Star Grand Canyon Tours , Mule Rides
Pros: You get to feel the vertical scale of the canyon as soon as you dip below the rim. You escape the large crowds. You get a great workout.
Cons: You have to be in decent physical shape. At high elevation, if you have gone a significant distance down the trails, hiking back out is difficult and dangerous for certain people with medical conditions.
BOAT GRAND CANYON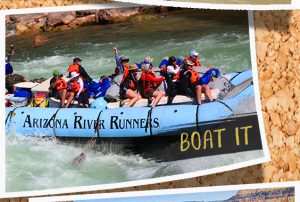 Description: If you want to get to know the canyon intimately this is the way to do it – but it is contingent on you having a good chunk of time on your hands. You can do the upper end in 3 days by motor boat or float it in 13 days by oar powered raft. A one day smooth water trip is also a great way to go which explores the stretch from Glen Canyon Dam to Lees Ferry which departs a couple of hours drive from the South Rim in Page, Arizona. I have done 7  trips with Arizona River Runners and they are a phenomenal company. Highly recommend them!

Price: $93 per person day trip, $1200-$3500 per person for multiday trips
Necessary Equipment: See vendor website
Recommended Vendor: Colorado River Discovery for the day trips,  Arizona River Runners  and Grand Canyon Whitewater for multiday trips
Pros: See the canyon from an entirely different vantage point and if you do full length trip see the canyon from beginning to end. Fantastic wildlife and geology sightings. An adventure of a life time. White water rapid rides.
Cons: Expensive and requires more time if you do the multiday. Single day trip doesn't depart from South Rim where most people are based.
TOUR GRAND CANYON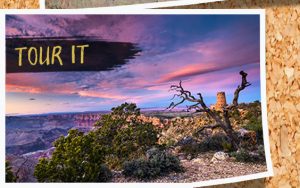 Description: You are staying in Flagstaff, so close to the Grand Canyon.  How can an active person(s) best see this place in one day?  You want to avoid crowds, gift shops, and typical tourist "stuff".  But you don't feel up to hiking to the bottom of the canyon.  Its been our experience that doing so by vehicle tour is the most efficient and fun way to see this place that we call our backyard! Vehicle tours will typically pick you up from your hotel lobby and drop you back around dinner time. One tour we love is Canyon Country as they will do photo tours that optimize your trip for the gorgeous lighting. Seeing the Canyon at sunset is a must! (picture taken by Glenn Tamblingson, lead guide on one of their photo tours).
Necessary Equipment:   A hat, sunglasses, camera & water bottle.
Price: $150 per adult for guided day trip departing from Flagstaff and Tusayan
Recommended Vendor: Canyon Country Grand Canyon Tours
Pros: Lots of great information, an all inclusive price that covers food, travel and activities for the day. 
Cons: Limited availability. Recommend to book early!
FLY GRAND CANYON
Description: Get a birds eye view of the canyon with a plane or helicopter flight. This is really fun if you love flying and I've heard a nice aspect to a well rounded Canyon trip. If you'd like to read a personal account of flying the Canyon check out this post.
Necessary Equipment: None
Price: $200-$304 per person helicopter. $124-$300 per person airplane.
Recommended Vendor: Papillon Tours
Pros: Fun to fly and see the canyon from the air. Gives good perspective of length of canyon to see it from overhead.
Cons: Flights are not permitted to fly below the rim and stay a good elevation above the rim and away from high traffic areas to reduce noise pollution. Expensive for the short amount of time spent doing it.