Visitors to the Grand Canyon can't avoid seeing the large San Francisco Peaks dominating the horizon to the South when they approach the rim. Wrapped around Flagstaff, these peaks are all but most obvious of over 2,000 other extinct cinder cone volcanoes in the area.  From small lumps in the land, to the towering peaks of Flagstaff.
One stands aside, a little different from all the rest, those traveling north of Flagstaff along 180 will notice signs for a "Red Mountain", and note a nearby mountain that has blown its side away.  Revealing a striking red coloration, and formations from years of erosion.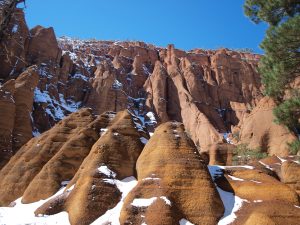 Getting there is simple once you've gotten onto 180, which leaves from behind Flagstaff's historic downtown.  Proceeding past the San Francisco Peaks, and through several meadows before entering the forest proper.  The road continues through a high pass, then descends quickly out of the ponderosa pine forest, and into the pinyon/juniper forest; where Red Mountain is found.
For those using a GPS the location is here: Red Mountain
The road in is a dirt road, maintained by the National Forest Service, though graded, can be a little rough, but it is a short drive in to a parking lot.  The lot can accommodate approx. two RVs, or 8 cars.  Watch weather conditions, the roads may be washed out following heavy rains.
The trail doesn't reach the top, nor has any substantial elevation change, but meanders gently for a little over a mile into the crook of the red formations.  About a 30 minute walk.  Making this a comfortable stop to stretch the legs, and see a little more of the area!