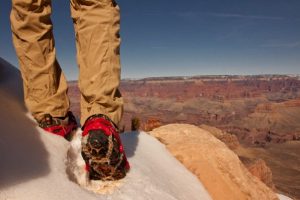 A few years ago we decided to celebrate our friend Matt's birthday (which happens to fall on valentines day) with a Rim-River and back overnight hike from the South Rim. The plan was down the Kaibab trail to the river. Camp. Back up the Bright Angel Trail.
For those who have experienced Grand Canyon in February you'll know that there are som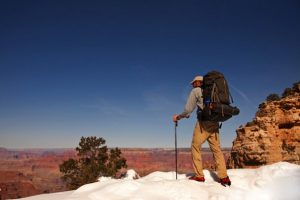 e obvious pros and cons. The pros are that there's far less risk of heat exhaustion, it's easier to get permits and the trails are far quieter than in warmer months. The big singular con is that the trails are icy, sometimes ladened with snow, and obviously the cold that goes along with it poses challenges to camping.  You'll have to pack bulkier clothes and sleeping gear.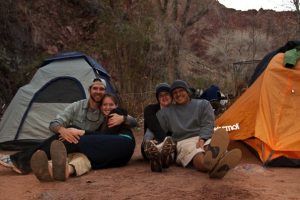 Fortunately the trails descend quickly and as you drop in elevation the weather gets much warmer. When we started the temperature was just below freezing and by the time we reached Phantom Ranch at the bottom of the canyon it was in the high 50s. The first mile or two however was tricky. Still shaded and very icey. We bought Kahtoola micro spikes which made a massive difference and I wouldn't attempt this trail in winter without them. They fit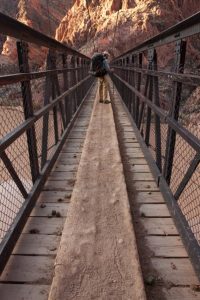 snuggly over your hiking shoes to grip the slippery terrain below. They are small and light enough not be notably cumbersome on your feet or in your backpack when you're ready to take them off. Hiking poles help out a lot too.
Make sure you back waterproof gear incase you end up in rain. Also it's worth noting that when you're in the cold zones the sweat you accumulate while huffing it back up the trail can chill you down fast and put you into hypothermia if you're not careful. Pack a handful of "Hot Hands" (buy here).
Phantom ranch at the bottom of Grand Canyon does have lodging available which you can book in advance here http://www.grandcanyonlodges.com/lodging/phantom-ranch/. In winter this would be a great idea. We unfortunately didn't plan far enough ahead to snag one of the rooms.
We did however book a hot breakfast in advance which was pricey but well worth it. At 5am in the dark it was a great way to begin the big hike out.
Overall a worthwhile adventure and a less popular but exceedingly beautiful way to see the Canyon…. covered in the white stuff!