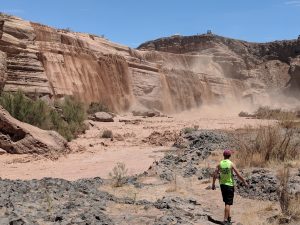 Arizona is both known and unknown for its waterfalls; a lot of visitors would be surprised to know the magnitude of waterfalls in the southwest.  Grand Falls is larger than Niagara Falls, at 185 feet tall.  And is only considered the third largest waterfall in Arizona.  When I visited the site, I felt that what lay before my eyes belonged in Africa, not the South West, then again, I find that feeling again and again in Arizona.
Probably less hard to imagine, some waterfalls in Arizona can be temperamental, this is one of those waterfalls.  Timing has to be considered when visiting Grand Falls.  It is most consistent during the spring, where the snow melt from the White Mountains (also known as the Alps of Arizona) provide a steady stream of water to feed the falls.  The first half of summer the falls will be mostly dry, until the monsoon season come late July/early August and September.  It is during this time that the falls are at their hardest to catch, but also flowing at their hardest!  Adding a light element to a storm during your vacation!
If it's not spring, here's how you catch Grand Falls in the monsoon season.  There is a USGS station in Winslow, AZ that measures the amount of water flowing along the Little Colorado River (which is the river that feeds Grand Falls).  Follow this link to the USGS site for Winslow's gauge: https://waterdata.usgs.gov/nwis/uv/?site_no=09400350 .  The first table is the indicator to watch, average flow rates are in the 10's of cubic feet per second, but you are looking for the gauge to jump into the several hundreds!  When you see this, it takes two days for the water to flow to Grand Falls.  Literally give it 48 hours from the hour the flow increases markedly.  The pictures in this blog are from when the flow was measured at 4,400 cubic feet per second.
Getting to the falls is relatively straight forward, so long as you approach the falls from the south, approaching from the north is extra curricular, and isn't recommended without a 4×4, high clearance vehicle.  Otherwise just type in "Grand Falls" into your favorite map app (such as Google Maps) and follow the directions.  It takes a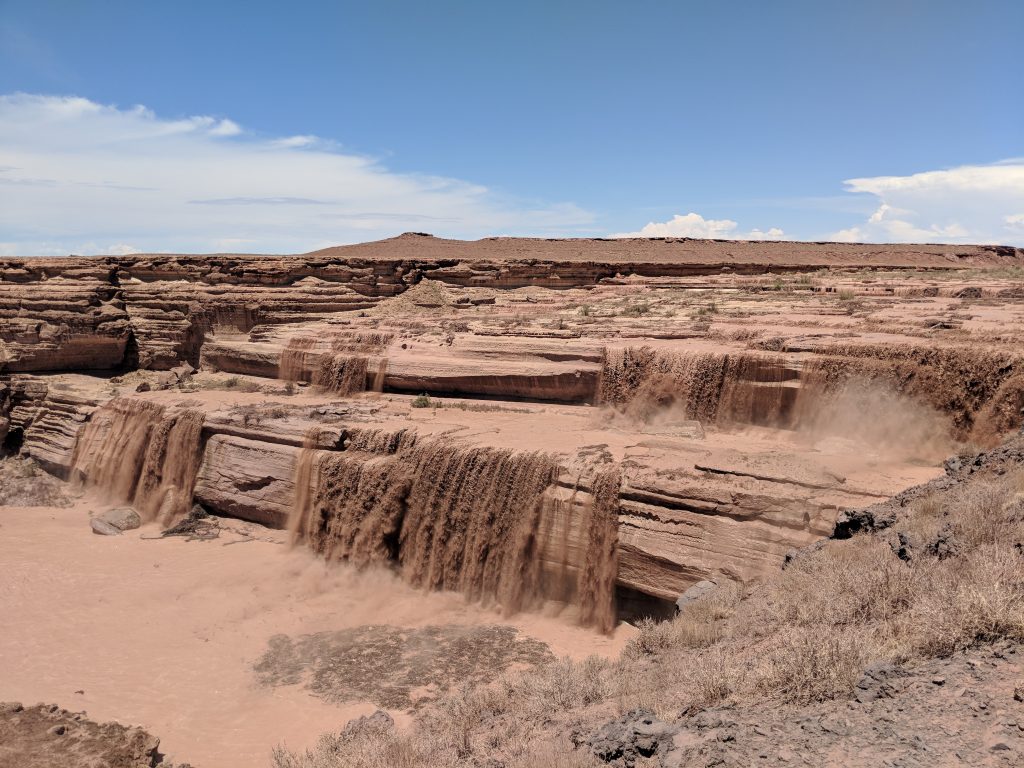 approximately 3 hours to reach the falls from the Grand Canyon.  Something else to keep in mind is the road turns to a graded dirt road once you enter the Navajo Nation.  None of the road approaching from the south is extra curricular, and is achievable by all manner of vehicles, just remember to minimize the amount of dust you raise.  Have fun!
p.s. it would be worth downloading or noting directions ahead of time, as there is not much cell service on the final road of your journey.