WARNING BEFORE YOU READ THIS OR VISIT THIS SITE: Traversing canyons during the rainy season can be deadly. Flash floods occur with little to no warning. Check the weather in areas 200 miles surrounding the canyon and do not proceed if there is impending rain.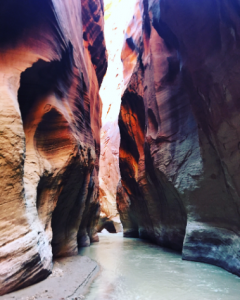 If you want a quiet adventurous day hike away from the crowded antelope canyons of nearby Page, this creek walk can be a beautiful surprise for the solitude seeker.  Located three hours from the south rim of the Grand Canyon, the access to Paria Canyon is the White House trail head.  I would recommend heading out in the evening to camp at the trail head and then having the whole day to explore this arid oasis.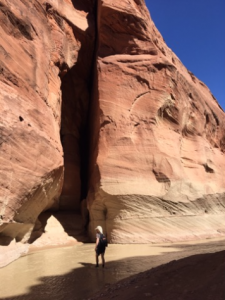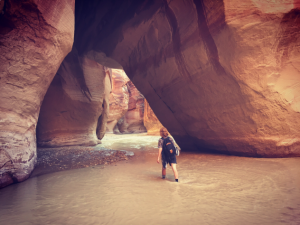 My friend and I hiked seven miles to the confluence of the Paria river and Buckskin gulch, an adjacent slot canyon.   This out and back hike is breezy, exposed, and a feast for the eyes.   The beginning of the hike is a slow meander in the creek bed, which can be inches deep in spring and much drier and siltier in summer.  The washed canyon walls will begin to rise slowly around you as you make the miles southward under the sun.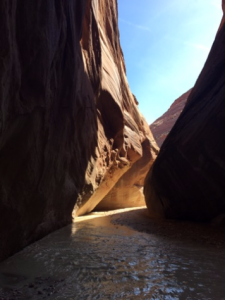 For those with furry friends,  this is also a pet friendly hike as dogs are permitted in the Vermillion Cliffs wilderness.   This is a creek walk regardless, and there are numerous crossings with eventually only a shallow river to walk in, so water shoes or sandals are required for the comfort of two legged hikers.  
The red flowing walls around you will make the hike worth it, and at around 4 miles the canyon begins to narrow.  The  warm light streaking in creates a shadows and mysteries, and this becomes one of the most wondrous places in the southwest.
It's advised that you tote all your own water down this hike, as the silt of shallow river can clog water filters.  There are many pleasant beaches to stop for snacks and peaceful picnics along the way.   A game of frisbee with an eager friend can be a fun way to bask in this beautiful place.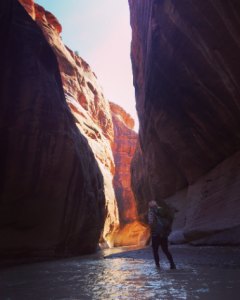 This is truly a photographer's paradise.   
A few words of caution for slot canyon hiking.  There have been a danger of flash floods in this area in the past, so make sure to check the local weather and get advice from the Paria Contact Station near Kanab, Utah before you set out.