The historic El Tovar is located inside the Grand Canyon National Park on the South Rim. The rustic lodge offers amazing dining experiences, right on the rim of the canyon! Limited canyon view seating is available, and reservations are typically required in advance for dinner. Didn't plan ahead, but still want the experience? Breakfast at the El Tovar, or ET, is a local favorite for Grand Canyon park residents! The service is friendly, and the breakfast is the best in the park (in my local opinion).
Waiting for breakfast, which only took a short time to be served, we comfortably sipped coffee while overlooking the rim trail, and of course the beautiful Grand Canyon. It's hard to say no to the freshly made bakery options, which are made with love every morning by the bakers in the back. If you like cinnamon rolls, you've come to the right place.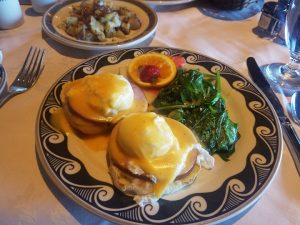 I personally can't stop ordering the eggs benedict. It's my all time favorite at the Grand Canyon, and falls just behind the delicious eggs benedict found within the Ahwahnee Dining Room in Yosemite National Park.
Delicious breakfast with a view? Yes, please! It's the perfect experience to start your day with, especially if you're planning a hike down into the canyon, or a day of driving to your next adventure destination.
To see an El Tovar breakfast menu, visit: http://www.grandcanyonlodges.com/assets/17-ET-Breakfast.Spring.04.pdf