As a mom of a 5 and 9 year old, I completely understand the challenges of traveling with children. As a local who has spent a lot of time in and around the Canyon WITH my children I feel like I have narrowed down the 7 activities which suit the following criteria: affordable, safe, fun and memorable. These are both kid and parent approved… 4-5 stars on each, and backed up by many Tripadvisor.com reviews that echo these sentiments.
Biking the Rim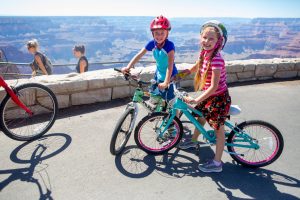 The Grand Canyon has hundreds of miles of steep, unfenced cliffs… a breathtaking and beautiful spectacle for an adult… but a terrible temptation and risk for a small child.  When my kids were young and unable to exercise proper caution, they were confined to the stroller or my hip. They didn't love this. I did however discover that they LOVED trailers and tag-alongs and biking Grand Canyon soon became their favorite activity as they got to see a lot while still being safely buckled in. It has continued as they've grown older and more independent on their own bikes and I love doing it as well.  There are many miles of beautiful paved pathways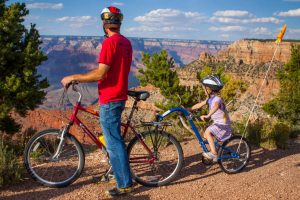 along the rim. They are clean, uncrowded, have only gentle inclines and declines, and offer access to the most stunning views on the South Rim. Our favorite is to bike the Hermit Road and pack a lunch to enjoy at one of the many picnic tables along the way. I feel like this is the best way to see more, feel more and experience more at the canyon with children. You can rent a bike from Bright Angel Bicycles & Cafe and get a map to all the paths available to bikes at their location as well. You can also join a guided tour if you'd like to enjoy interp at the same time.
Stargazing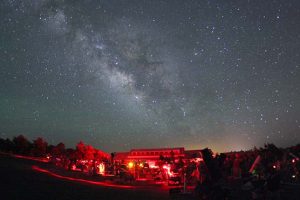 One of the most amazing things in this part of Arizona that people from other more densely populated areas comment on is the stars. On a cloudless night, they are breathtaking. The nearest large city is Flagstaff, Arizona which is the countries first "dark star city" which has ordinances preventing light pollution and allowing one to have an excellent view of our cosmos. Take the kids out to one of the viewpoints at night which a cup of hot chocolate and give them an experience that they'll never forget for the rest of their lives. And if you're lucky enough to come during the annual Star Party, they can see it through telescopes too!
Desert Watch View Tower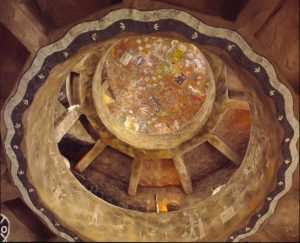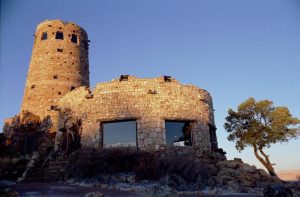 The desert watch view tower is located on the East Rim drive approximately 20 minutes from the South Rim village. It's a fantastic place to explore the native history of the canyon. It's a also an exciting adventure for the wee ones to ascend the huge gorgeously painted staircase that winds up to the top of the tower and overlooks the canyon. It has small windows that they can look through and the "castle like" structure will capture their imaginations. My kids LOVE this location and it's sure to keep them busy and interested.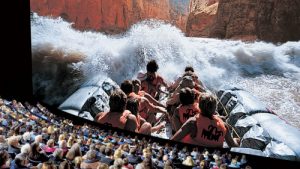 Grand Canyon IMAX Movie
Hey… I know your kids get enough screen time while not on vacation, but do yourself a favor and take them to the Grand Canyon IMAX in Tusayan. It's a great, well rounded look at the Canyon's history. Just short enough to keep the little one's attention and just long enough satisfy an adult. It's an oldie, but goodie.
Trail of Time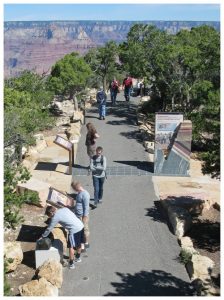 Depending on the child, the drastic pitch of the trails going in and out of the Canyon may be too much for most small kids to handle. If you do want to hike in, the Bright Angel Trail is a great warm up as it has many switchbacks which gradually descend into the Canyon. If you however want an interesting and beautiful walk that most kids can handle, try the "Trail of Time" which is a geological exhibition and excellent learning opportunity for both children and adults. More information can be found in the park literature given to you at the Gate OR visit this website http://tot.unm.edu/
Mellow Rafting Day Trip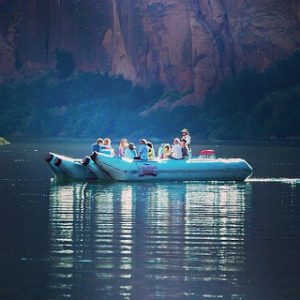 Technically what I'm about to describe is not in Grand Canyon National Park. It's a boat trip which departs from Page, Arizona and traverses the 7 mile strip of river immediately below the Glenn Canyon Dam wall. After breakfast at their cafe in Page, Colorado River Discovery takes you for a float trip (no rapids involved) along the brilliantly green Colorado river below soaring canyon walls. It's a small taste of what the 7-10 day river trips that travel the length of the river on Grand Canyon river trips experience. You also get to float the section of river famously seen in photos of Horseshoe bend. It is an for children and adults and fairly affordable too. I have also done 8 full length grand canyon river trips which allow children over the age of 8. I highly recommend Arizona River Runners. 
Pizza & Sunset on the Rim
O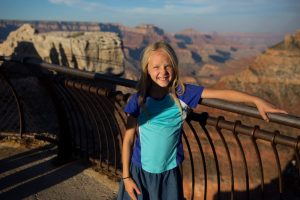 ne of my kids all time favorite things to do is get pizza and watch the sunset. Pack a blanket to sit on, and sweaters to keep warm in the evening air. Pre-order a pizza at one of Grand Canyon's lodge restaurants and send one parent to pick it up after dropping the other parent and children off at Mather Point / Grand Canyon visitor center. Make your way up the 1/4 mile trail to the viewing area. Find a seat with a good view and when the other parent arrives with the pizza you'll be ready to enjoy the most picturesque meal of your life. If you're lactose intolerant pack a different dinner. Grab n' go sandwiches are available at Bright Angel Bicycles & Cafe near the visitor center and they have options for vegans and celiacs too.
Junior Ranger Program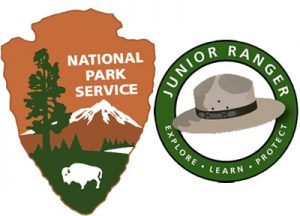 The National Park Service runs a program geared toward educating and entertaining children in the Parks called the "Junior Ranger Program". They learn about nature and history, have fun exploring the parks, and tell their friends, families, and schoolmates about their adventures. Junior Rangers are encouraged to continue to protect the environment at home and at school. Find out more about the program at Grand Canyon National Park here.
Strollers at Grand Canyon (Rent a Good One that Fits on the Bus!)
One thing that's a MUST when you're exploring Grand Canyon is a good stroller. There is a considerable amount of open cliff space and you'll want the kids safely strapped in. This also helps to shield them from the weather, and saves exhausted legs and tired attitudes. If you don't have a great stroller that folds down easily, Bright Angel Bicycles rents strollers near the visitor center. They have single and double strollers that easily collapse to be taken quickly on and off the NPS buses if need be. More info here